About
111 S Main St -
map it!
Korean BBQ & Market is located next to the Italian restaurant Gia's on Main St. It's a tiny, family owned spot that doubles as an asian market on one side and a small Korean restaurant on the other. Despite the BBQ in the name, there is no actual grill on any of the tables, common with most Korean BBQ places. Everything is cooked in the back and brought out to the front. Service is a little lacking, but do remember that it is a family owned joint with quite a language barrier so it's difficult for the owners, but they are super nice and appreciative of their customers and do what they can.
Jeyuk Bokkum. credits to google (sorry, I was super hungry! I will take my own photos next time)
Menu
view menu!
The menu is limited but carries the basics of Korean cuisine without being too intimidating for Logan, UT. It doesn't sacrifice it's authenticity (such as Americanizing dishes) and each dish has a homemade taste presented neatly. Each entree comes out with rice and a spread of 5 or 6 small side dishes meant to accompany the meal. The entrees are big, traditionally for a family style type serving. You can easily order another bowl of rice and share an entree with another person.
Kimbap. credits to google.
Price Range
-
$6-$20
The price is a bit pricey, as with most Korean restaurants, but it is meant for family style meals (that means grab your friends/family and make it an event!). You'll find prices range from $7.95 to $19.95 an entree. Lunch is definitely the cheaper option if you're trying it out or don't want to share entrees. Hubby and I ordered two entrees and a side of Kimbap, a small snack, really, and it came out to $24. We were stuffed and couldn't finish our meals (and we were starving before we left the house!)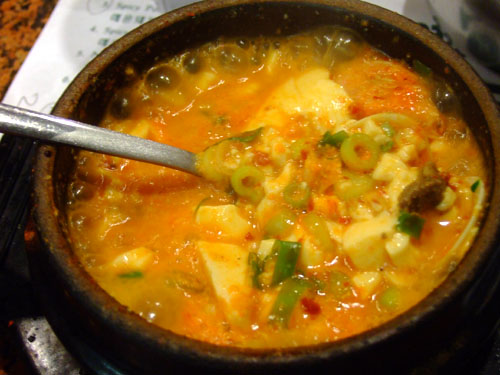 Soondooboo Jjigae. credits to google.
Verdict
-
3.8 stars
Since I can make all the Korean staples at home (like Kalbi, Bulgogi, Kimchi Jjigae) we were in the mood for something authentic we couldn't make. Hubby had a Jeyuk Bokkum which is a dish consisting of spicy, marinated then fried pork with onions, bellpeppers, mushrooms (and some other veggies, I think I covered most of them) and I had the Soondooboo Jjigae, a spicy tofu stew popular in the winter seasons and an order of Kimbap, a kind of Korean sushi consisting of imitation crab, cucumber, yellow pickled radish/daikon, and carrots. The Jeyuk Bokkum was delicious and tasted homemade and the Kimbap tasted just like my mom and I make back home. The Soondooboo Jjigae was lacking in flavor, not as flavorful in depth as it should be and I definitely wouldn't order it again. Usually it is rich and has seafood and/or meat, but it only had tofu and mushrooms. The side dishes were delicious and the kimchi is good (you can usually judge a good korean restaurant by the kimchi). We had a good time and were satisfied, but not the best Korean I've had, but for Logan, it's alright. For your first time trying Korean, try the Kalbi, Bulgogi, Doejibulgogi, or the Jeyuk Bokkum.